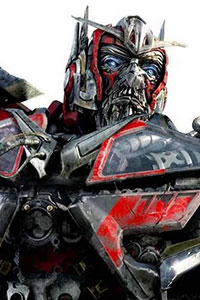 Allegiance: Autobot?
Alt Mode: Firetruck
Role: Former Leader
Appearances: DOTM
Best Movie Quote: You simply fail to understand, that the needs of the many outweigh the needs of the few…
Sentinel Prime is voiced by Leonard Nimoy. Nimoy previously was the voice of Galvatron in the 1986 animated film, so voicing this character was a return to form for the actor most known for portraying Spock on Star Trek. Brains, the Autobot friend of Sam Witwicky, actually eludes to the plot of the film while watching an episode of Star Trek on the television near the beginning of the film. Sentinel Prime betrays the Autobots by aligning himself with the Decepticons to revive their home planet of Cybertron. The scheme involves transporting Cybertron closer to Earth so that energy can be siphoned off to power their dying planet. This plot is actually similar to an episode of the animated series called "The Ultimate Doom." Sentinel is eventually defeated by Optimus Prime with an assist from Megatron's shotgun rifle.