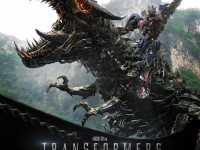 Transformers: Age of Extinction to feature original song by Grammy Award-winning Imagine Dragons
909 views
Director Michael Bay, film composer Steve Jablonsky and Paramount Pictures are collaborating with the Grammy Award-winning band Imagine Dragons to feature the band's original music in the upcoming film Transformers: Age of Extinction, one of the most anticipated movies of the summer. Following an early screening of the film, Imagine Dragons wrote the original song "Battle Cry," which Bay used in critical points in the film. Additionally, the band contributed original music during the scoring process by recording cues with Jablonsky, the film's composer, and Hans Zimmer, who assisted in the process. The collaboration resulted in added depth to the sound of the film.
"We're incredibly lucky that Dan, Wayne, Ben and Daniel wereavailable to work with us," says Bay.  "I remember being drawn to the emotion of 'Demons' and 'Radioactive' the first time I heard those songs, and I knew I wanted that same energy and heart for this movie.  They've created a really epic, otherworldly sound for 'Battle Cry.'"
Alex Da Kid, label head at KIDinaKORNER Records, says, "The Transformer franchise has set the bar for cinematic innovation over the years. We are excited to collaborate with Michael Bay and Paramount Pictures and view this as an incredible global platform."
Imagine Dragons took off in 2012 with their first album Night Vision. Since then they have skyrocketed and Night Vision has gone platinum. They have also won countless awards including a Grammy. Previously, they wrote "Who We Are" for The Hunger Games soundtrack; "Ready Aim Fire" for Iron Man 3 and "Lost Cause" for Frankenweenie.
Transformers: Age of Extinction opens in theatres June 27.
Comments: